I have the tendency, but have managed to collect only a few things in my life. Baseball cards when I was 13, records at 25; and after managing a store feeding people's obsessions, I see what it can do to them and try to steer as far away from it as possible. I don't even like to encourage other people's obsessions either. It's a money sink and a waste of time and space. One of the only things I still collect is antiquated etiquette books, old cookbooks and historical books on eating. Many times, the books mention a dish that's been lost in culture through the decades during the conversion to electronic type.
I found Hungry Browser with Uncle Phaedrus: Consulting Detective and Finder of Lost Recipes while looking for a forgotten recipe by my neighbor: egg balls.
The lost recipe for Egg Balls (Frigaletti)
I love this site. So many forgotten recipes. It's important to chronicle these things on the internet for the eager public so it will live forever. I thought it'd be interesting to contact Phaedrus and get some insight to the consulting detective himself.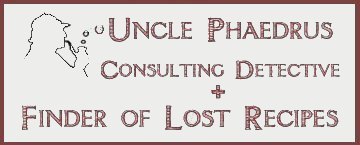 Hey Phaedrus, thanks for doing this, I'm really interested in your story. I guess I am most interested in finding out about you, your process, and your adventures…
JO:Is Phaedrus your real name? If not, what is the significance of it?
Phaedrus: No, Phaedrus isn't my real name. "Uncle Phaedrus" is a created character. "Phaedrus" was an ancient Greek Rhetorician who debated Plato in one of Plato's "Dialogues". "Phaedrus" is also the alter ego of the main character in "Zen and the Art of Motorcycle Maintenance" by Robert M. Pirsig. I liked the sound of the name, so I gave it to my character.
JO: Where are you from? Where do you live? Why did you choose to live there?
Ph: I live in Mississippi. I was born about 16 miles from where I sit. My great-grandparents are buried about ten miles from here. My great-great grandmother is buried about 15 miles from here. They came here from Indiana in the 1870s. However, I grew up on the Mississippi Gulf Coast. Since the 1980s, I've lived here to be near my family.
JO: What are your motivations for creating and maintaining this site?
Ph: The site began as a trivia Q & A site on a local BBS in the 1990s. It was moved to the Internet in 1996, and a prominent cooking and recipe site linked to it in 1999. As a result of that link, Uncle Phaedrus began getting cooking questions and recipe requests. These became more popular than the trivia questions, so "Ask Uncle Phaedrus" soon became "Uncle Phaedrus, Finder of Lost Recipes". Finding answers is the appeal for me, so it doesn't make a lot of difference whether it's trivia or recipes that I search for.
JO: Have you always collected recipes (Before the whole internet thing)?
Ph: Nope. I've always enjoyed good food, but I never collected recipes until this site became what it is.
JO: What are some of your most cherished finds?
Ph: I'm really pleased when I locate recipes from restaurants that no longer exist. I suppose a love of history is involved. It's great to get an e-mail from a former employee of one of these restaurants, or from a relative of the chef or owner of the establishment.
JO: What are your resources for finding these rare recipes?
Ph: I have quite a few topic-specific cookbooks, but the Internet is my main source, becuase it is searchable.
JO: Do you collect anything else, other than recipes?
Ph: Books. I have a strong interest in the paranormal, and have a fairly large library of books on topics related to that, as well as books on criminology and forensics. I am a fan of mysteries and detective novels.
JO: Which characters in cooking do you find the most intriguing? whose recipes?
Ph: I find restaurants and hotels and cultures to be more intriguing than cooks and chefs. An exception is M.F.K. Fisher, whose books I have enjoyed immensely.
JO: Where do you get your cooking supplies from?
Ph: I do not cook. I am a researcher and an enjoyer of good food and wine.
JO: What is your favorite piece in your kitchen?
Ph: The refrigerator.
JO: What is your holy grail of food recipes?
Ph: That's a hard choice. It would have to be a recipe book from one of the many bakeries and restaurants that were once popular but are gone now.If I had to limit it to one, I 'd say the Grail would be a copy of the actual Horn and Hardart Automat recipe book, although the Woolworth's Lunch Counter recipe book would be a close second. I get requests for H & H recipes often, and there are only a handful of recipes available, even among the descendants of Horn & Hardart.
Hungry Browser with Uncle Phaedrus: Consulting Detective and Finder of Lost Recipes
—————————–
Thanks for talking with me, Phaedrus. I am a big proponent of the responsibility for documenting as much as possible on the internet for the future of mankind. Thank you for your hard work and discussing what you do and who you are with me. Good luck with all your future endeavors.